{{

[[テンプレート:

|]]}} {{

[[テンプレート:

|]]}}{{

[[テンプレート:

|]]}}{{

[[テンプレート:

|]]}}{{

[[テンプレート:

|]]}}{{

[[テンプレート:|]]

}}{{

[[テンプレート:

|]]}}{{

[[テンプレート:

|]]}}{{

[[テンプレート:

|]]}}{{

[[テンプレート:

|]]}}{{

[[テンプレート:

|]]}}{{

[[テンプレート:|]]

}}{{

[[テンプレート:|]]

}}{{

[[テンプレート:

|]]}}{{

[[テンプレート:

|]]}}{{

[[テンプレート:|]]

}}{{

[[テンプレート:|]]

}}{{

[[テンプレート:|]]

}}{{

[[テンプレート:|]]

}}{{

[[テンプレート:

|]]}}{{

[[テンプレート:|]]

}}{{

[[テンプレート:|]]

}}{{

[[テンプレート:|]]

}}{{

[[テンプレート:|]]

}}{{

[[テンプレート:|]]

}}{{

[[テンプレート:|]]

}}{{

[[テンプレート:

|]]}}{{

[[テンプレート:|]]

}}{{

[[テンプレート:

|]]}}{{

[[テンプレート:

|]]}}{{

[[テンプレート:

|]]}}{{

[[テンプレート:|]]

}}{{

[[テンプレート:|]]

}}{{

[[テンプレート:|]]

}}{{

[[テンプレート:

|]]}}{{

[[テンプレート:|]]

}}{{

[[テンプレート:

|]]}}{{

[[テンプレート:

|]]}}{{

[[テンプレート:

|]]}}

300px
マングース
Production information
Production information
Manufacturer
Manufacturer
Product line

マングース

Product line

マングース

Model

M274超軽量全地形万能車両

Model

M274超軽量全地形万能車両

Class

超軽量全地形万能車両

Class

超軽量全地形万能車両

Technical specifications
Technical specifications
Length

7 feet

Length

7 feet

Width

4 feet

Width

4 feet

Height/depth

4 feet

Height/depth

4 feet

Mass

テンプレート:Convert/lb[1]

Mass

テンプレート:Convert/lb[1]

Maximum speed (atmosphere)

95km/h (60 mph)

Maximum speed (atmosphere)

95km/h (60 mph)

Engine unit(s)

1,000cc liquid-cooled, mid-engine mounted, four-stroke, hydrogen-injected ICE

Engine unit(s)

1,000cc liquid-cooled, mid-engine mounted, four-stroke, hydrogen-injected ICE

Shielding

無し

Shielding

無し

Armament

None

Armament

None

Crew
Crew
Minimum crew
Minimum crew
Passengers
Passengers
Usage
Usage
Role(s)
Role(s)
Era(s)
Era(s)
Affiliation
Affiliation

  [Source]
"Speed is the only protection this vehicle provides; it is unarmored, noisy, and prone to roll-over. It demands a level of skill from its operator that is impossible to expect...during combat conditions."[2]
M274 Ultra-Light All-Terrain Vehicle[1][2][3] (略称M274 ULATV又はマングースとして知られる) はUNSCの軽地上輸送車両の一つでAMGトランスポート・ダイナミクスが生産している。この車両には固有装備は無い。同乗者が運転手の後ろに乗り込み手持ちの火器を使うしかない。
概要
[
]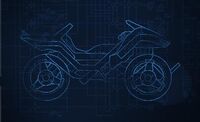 M274 マングース ULATVはUNSC海兵隊の正式装備の一つで、高速で歩兵1名を輸送することができる、地上車両だ。偵察、輸送、迅速な戦術汎用性から見て素晴らしい車両だ。M831 TT ワートホグよりも小型な為に非常に輸送可能な人員は少ない。どちらの車両にもいえるが武装を有していないので歩兵が保有する装備で自衛するしかなかった。Halo 3では、M12 LRV ワートホグの方が実は早かった。(これは色々と理由があったが・・・。主にカメラアングルなどが原因だったようだ)
マングースの高速機動力、非装甲、超軽量、非武装のULATVは、敵の攻撃に対して極めて脆弱だった。不安定な地形での走行は、車両を横転させる危険性が高まる。運転手や同乗者を守る装甲が無いのも欠点だろう。車体から身を晒して移動しなければならず、最前線で使用するのは危険だ。
この兵器はペリカン降下艇とヘビーモス-級兵員装甲車 (エレファント)で輸送、展開される。AV-14 VTOLは機体で牽引できそうな感じがするが、ゲーム内部で実際に輸送しているのは見たことが無い。
この車両はゴーストと同系列の戦闘車両であると思われている。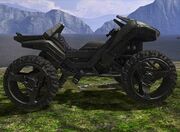 作戦
[
]
The Mongoose is operated by a single driver, situated in the middle of the vehicle. Once a driver is in place on the seat, the ULATV accelerates rapidly, and can reach a top speed of 60 MPH. The high acceleration and high top speed available on the vehicle proves a vital advantage while trying to "splatter" enemies. However, the Mongoose's excessive maneuverability often makes it quite difficult to splatter enemies: A head-on, full-velocity impact on a shielded enemy is needed to deliver sufficient force to kill.
The lack of weaponry mounted on the Mongoose makes the presence of an armed passenger often essential in combat zones. Engagements with enemy infantry or vehicles are often inadvisable in the absence of a passenger armed with heavy weaponry; the Mongoose's extreme speed and maneuverability makes it the best choice to zoom through enemy lines. The Mongoose's speed and acceleration makes it almost impossible to hijack.[4]
The Mongoose's lack of personnel-protective armor, however, makes the driver, and especially the passenger, vulnerable to enemy fire, especially from medium-long range weapons such as the BR55HB SR Battle Rifle. Although the Mongoose's maneuverability makes it difficult to destroy with heavy weapons such as the M41 Rocket Launcher, the Mongoose is vulnerable to the Spartan Laser; despite the Mongoose's high speeds it is extremely easy to track with the Spartan Laser since the Mongoose cannot reach speeds to make tracking difficult. The Brute Shot is also very effective, if you hit the Mongoose, it will send it about two of three meters flying the direction you shot at. Furthermore, in close-range engagements against a Mongoose, it is easy to stick or melee the operators. A slightly interesting trait is that if a player on a Mongoose attempts to ram another player who is wielding an Energy Sword, the sword-wielding player can actually lunge over the low windscreen of the Mongoose and kill the driver, provided their timing is right.
Despite the Mongoose's acute vulnerabilities, its light mass and small profile give it interesting applications: it is possible to launch the Mongoose safely off of a man cannon (albeit with mixed results), and the Mongoose can allow a driver to "lowride" in one; to drive by balancing on the back two wheels.[5][6]
Unfortunately, this light weight can also be the player's downfall. Explosives as weak as the splash damage from a fusion coil detonation are strong enough to flip it, and when fighting Flood Infection Forms, the Mongoose isn't heavy enough to pop them (the Mongoose will simply drive over the Infection Forms, leading to a bumpy ride that usually flips the player, and commonly leads to a quick death, perhaps to the Infection forms on higher difficulties).
List of appearances
[
]
Sources
[
]
Related pages
[
]