The Anniversary map pack is a DLC map pack which was released for Halo: Reach on November 15, 2011 for 1,200 Microsoft Points,[1] and was also bundled with Halo: Combat Evolved Anniversary as a download code.[2] It was later released for free as part of the Halo Summer Celebration.[3] Besides this, the maps are also available on the disc of Halo: Anniversary itself, serving as its multiplayer component. The Anniversary map pack includes seven new multiplayer achievements.
The map pack was produced by a collaborative effort between 343 Industries and Certain Affinity and features six remade multiplayer maps from Halo: Combat Evolved and Halo 2. The maps have been tweaked to match the Halo: Reach multiplayer by changing their layouts, weapon drops, and vehicles. In Forge, the original version is still available to be tweaked. The seventh map is Installation 04, the first Firefight map with active AI assistance.[4]
Battle Canyon
Edit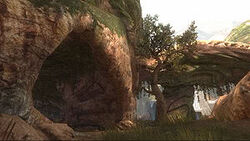 Battle Canyon is a cosmetic remake of the Halo: Combat Evolved map, Battle Creek and the Halo 2 remake, Beaver Creek. 343 Industries as well as Certain Affinity added sections to Battle Canyon to increase the flow of the Halo: Reach sandbox (e.g. Jetpack, Sprint) by adding rock tunnels in the middle of the map and back end alleyways that include the classic two-way teleporters at each end of the two bases. It will also replace the classic Beaver Creek teleporter placement with a UNSC wind lift.
Penance is a recreation of Damnation from Halo: Combat Evolved.[5]
High Noon
Edit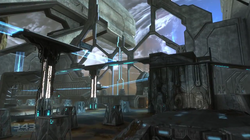 High Noon is the remake of Hang 'Em High from Halo: Combat Evolved.[6]
Ridgeline
Edit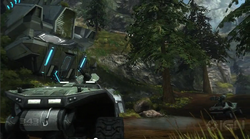 Ridgeline is a remake of Timberland from Halo PC. It is set on Installation 04 and is the first map within the Halo Franchise to use trees as Forge items.[7]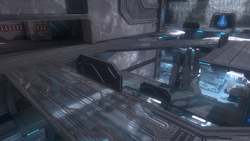 Solitary is a remake of Prisoner from Halo: Combat Evolved with several alterations to layout such as new gravity lifts and walkways on the backsides of the map. The game space is placed inside a recently outbreaked Forerunner prison in a big rotating structure in a snowy world.
Breakneck
Edit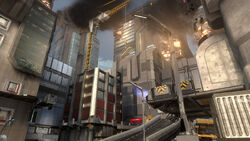 Breakneck is a remake of Headlong from Halo 2. Breakneck includes most of the things that Headlong is well known for (e.g. The Crane, Rocket Launcher, Gauss Warthog) There are some sandbox changes, such as adding a Man Cannon instead of using a teleporter like in the original Headlong. The Corner Building now has a hole in the ceiling on the second floor, adding a new strategical advantage.
Installation 04
Edit
Installation 04 is a Firefight map located at the Beam Tower on the cliffside from the end of the level Halo from Halo: Combat Evolved. It is the only Firefight map to feature NPC Marines and ODSTs, as well as the only Firefight map included in Halo: Combat Evolved Anniversary and the Anniversary map pack.[8]
Achievements
Edit
Map Packs

Cosmetics
DLC Bundles
Edition Bonuses
Pre-order Emblems
Pre-order Armor
Pre-order Weapon Skins
Italics indicate upcoming releases.