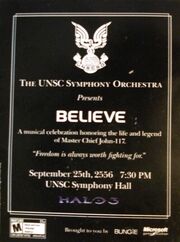 Believe was a musical event, honoring Master Chief Petty Officer John-117 for his service to the UNSC. It was performed on September 25, 2556 at the UNSC Symphony Hall, and performed by the UNSC Symphony Orchestra of the UNSCDP.[1]
"Believe" is one of two slogans for Halo 3, the other is "Finish the Fight."
Believe was performed on September 25, the release date for Halo 3.
The word "Believe" can be seen on the walls of New Mombasa buildings in Halo 3: ODST.