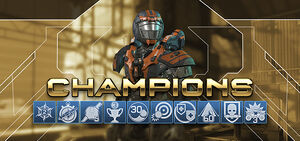 The Champions Bundle is a collection of DLC packs for use in War Games and Forge in Halo 4, but not Spartan Ops.[1] It includes the Bullseye Pack, the Infinity Armor Pack, the Steel Skin Pack, and additional bonus content not available separately. It was released on August 20, 2013, for $9.99.[2]
Main article: Bullseye Pack
Includes Pitfall (a remake of The Pit from Halo 3), Vertigo, and the Ricochet armor. Owners of this pack who also unlock the Flying Colors archive in Halo Waypoint's Classified section will unlock additional skins, XP, and a stance in Halo 4. This pack is available separately for $5.99 USD.
Main article: Infinity Armor Pack
Includes three new armor sets:
This pack is available separately for $2.99 USD.
Main article: Steel Skin Pack
Includes steampunk-inspired skins for all loadout weapons. This pack is available separately for $2.99 USD.
The Champions Bundle also includes additional content not available for purchase separately.
Loadout weapon skins:

Assault Rifle Trauma TRM
Assault Rifle Teeth TTH
Battle Rifle Salvage SLV
Magnum Indigo IND
Magnum Flare FLR

Armor skins:

Defender Column CLMN
Infiltrator Python PYTN
Oceanic Solid SLID
Enforcer Tracer TRCR
Venator Bayonet BYNT

Player Card stances:

Menace
Grandstand
Seasoned
Confident
Lookout
Drawn
Loyalty
Flank
Community content is available under
CC-BY-SA
unless otherwise noted.