Fire Emblem Warriors: Three Hopes - The Loop
Play Sound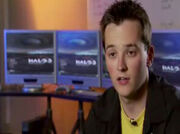 "Even through the Microsoft acquisition, Bungie's purpose is not to make money for Microsoft and support the platform. Bungie's purpose is to make great stuff."

— Chris Butcher
Gaming Industry
Chris Butcher joined the gaming industry in 2000, which was when he joined Bungie. Before he joined, he was working on his Ph.D in graphics in New Zealand.
Butcher served as a programmer for Halo: Combat Evolved, and as an engineering lead for Halo 2. His latest project was the game, Serious Sam II, which debuted in 2005.
In Halo 3: ODST, in the Rookie's HEV, on Legendary, there is a picture of a girl. According to Joseph Staten, this is the Rookie's "beautiful girlfriend," but is actually an edited image Butcher.
His favorite memory of working at Bungie was of falling asleep on the walk home at 4:00am and waking up the next morning on a high school football field.[1]
Background
"My parents thought it would be a better choice if I was eight-years-old to be trundling around a high school that an all girls school might be a more appropriate environment with less bullying and stuff - and it was kind of funny and kind of weird as well."

— Chris Butcher
He started taking high school math and science classes when he was just eight-years-old, and enrolled in Waitaki Girls School. He began his first degree in math and computer science when he was 10, and completed it when he was 15.[2]
Sources
Links
External