Defense of CASTLE Base is the second campaign level in the Halo Interactive Strategy Game.
Features: John-117, Three Marines, The Arbiter, three Unggoy, two Sangheili, and two Jiralhanae.
(Multiplayer includes three blue Spartans)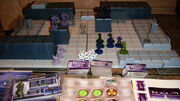 Description
Edit
This level takes place in CASTLE Base, on planet Reach, during a Covenant assault and the Covenant attempt to steal Earth's coordinates. It was said that this particular level was going to be part of a level in Halo Reach but was scrapped for some unknown reason.
Objectives
Edit
UNSC Forces: Eliminate all Covenant attackers in CASTLE Base.
Covenant Forces: Enter CASTLE Base and steal the data packet containing Earth's coordinates.
Next Level: The Hidden Artifact of Reach
Community content is available under
CC-BY-SA
unless otherwise noted.