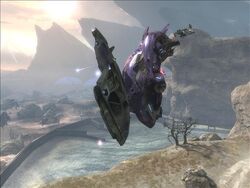 A dropship is a ship of small proportions that ferries troops into combat. The primary definition of a dropship is a military craft that can deliver troops from space to the surface of a planet, but dropships also serve as utility craft, ferrying troops between combat zones on planets. "Dropship" may refer to the following:
In the Covenant:
In the UNSC:
Pelican-class Dropships- The primary UNSC dropship.
Albatross-class Dropships- A rarer and larger dropship.
Pod - A heavy dropship used for transporting structures to the ground.
UH-144 Falcon - A multipurpose transport vehicle.
This is a disambiguation page - a navigational aid which lists other pages that might otherwise share the same title. If an article link referred you here, you might want to go back and fix it to point directly to the intended page.
Community content is available under
CC-BY-SA
unless otherwise noted.