GTA: The Criminal Enterprises - The Loop
Play Sound
| | | |
| --- | --- | --- |
| | Military-industrial concerns that power the UNSC war machine are prime targets for Insurrection factions. | |
Empire is a multiplayer map in the Halo 5: Guardians multiplayer beta and Halo 5: Guardians.[2] It is set on a AMG Transport Dynamics facility in Andesia during Insurrectionist activity at the capital, Noctus.[1]
Layout
There is at least one walkway on the edge of the skyscraper, where a large cluster of tall buildings can be seen. A raised platform exists in what is assumed to be the center of the map. There are some tunnels and rooms around the map.
Locations
Blue Alley
Blue Base
Blue Nest
Blue Outside
Blue Platform
Blue Window
Blue Yard
Mid
Outside
Pit
Red Alley
Red Base
Red Nest
Red Outside
Red Platform
Red Window
Red Yard
Top Mid
Tower One
Tower Three
Tower Two
Turbine
Development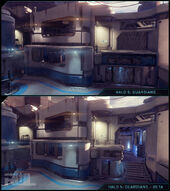 Before the Halo 5: Guardians Multiplayer Beta, Empire was set at an earlier dawn, causing the map to be slightly darker. More rays of sunlight also shone from out behind the buildings in the background. The Beta version featured a different layout and was a lot brighter. The final version of the map had different pathing, but was a little darker, though still a little later in the morning.[3]
Trivia
Gallery
Concept Art
Overview
Pre-beta
Beta
Gameplay
Comparison
Sources
Operation A:
Orphic Spear
Operation B:
Steadfast Persuit
Operation C:
Valiant Hammer
Operation D:
Adamantine Shield
Operation E:
Brother's Keeper