Eric Arroyo (Born July 19, 1970 and raised in East Patchogue, New York, USA) is an American artist and a Senior employee at Bungie studios.
Biography
Edit
He has been working at Bungie since 2000, serving as an artist for the company. He was credited as "artist" for Halo: Combat Evolved and "3D Artist" for Halo 2. He is now known as the "Mad Machinist" for Halo, creating not only extreme weapons, but also extreme vehicles. Before working at Bungie, he worked at Microsoft Gaming Studios on a racing game which was canceled soon after. He is married to Joy, and has a child, Gabriel.
As a child he remembers his father racing at National Speedway. Arroyo says his first passion is cars, not shooting. He enjoys racing sims, creating skins for racing games and his first job in the video game industry was as a car modeler and texture artist in Eastern Seattle for EA Games. He is also credited on Boku Strategies: Armies of Armageddon.
Dion Arroyo
Edit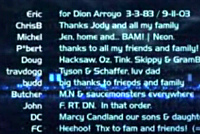 Eric honored his brother Dion, a victim of a car accident on September 11, 2003, during the end credits of Halo 2, with a simple message: "for Dion Arroyo 3-3-83 / 9-11-03." The Dion Arroyo Memorial Scholarship was initiated by brothers of the Delta Psi Omega Fraternity in memory of their former brother and friend. According to Eric, Dion was the first person who was not on the Bungie team to play Halo 2.
Bungie.net Profile
Edit
References
Edit
External links
Edit