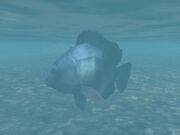 The fish living on the Tempest multiplayer map are small blue fish which live in large groups. They are only seen at one point in the game.
The Tempest fish only live in the Creek in Tempest and only travel along the waterfall. The fish swim by rising towards the edge of the water and going back into the deeper water in a jumping style. They are assumed only to live on the Halo ring and were either created or placed there by the Forerunners.
These fish are extremely weak and easy to kill, with any weapon being able to kill them.
Placing a Kill Ball in the water where the fish swim spawn will cause all fish to instantly die and disable the fish from spawning.
Related Pages
Edit
Community content is available under
CC-BY-SA
unless otherwise noted.