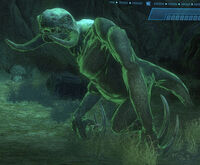 The Gúta,[1] pronounced "Gueta,"[2] is a gigantic bipedal species native to the planet Reach. Severe aggression is rare, outside mating males or females with young. Even so, it is an extremely dangerous animal.[3]
On a player's career stats at Bungie.net, the Gúta is listed as "mule." Instead of listing a rank, the entry simply says, "No hugging." The "Mule" nickname is an internal name used by Bungie employees.[4]
Unlike killing Moa, killing a Gúta awards the player points in campaign scoring.
Several ideas were formed around the Gúta, but were ultimately cut from the game. Among these ideas were Gúta being used as battle-mounts by Elites and Grunts, Gúta that were equipped with mounted weapons, and the ability for the player to "hijack" the Gúta and plant a grenade in its mouth.[4]
The Gúta was originally set to be in several campaign missions in addition to Nightfall. Due to resource constraints, this level features the only two Gúta in the game.[4]
The Gúta can survive two direct sniper shots to the cranium before dying.