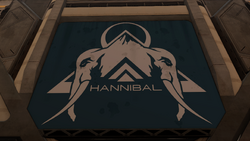 Hannibal Weapon Systems is a human company based in Kotka, New Carthage that manufactures MJOLNIR [GEN2] armor variants for the UNSC and the SPARTAN-IV program.[1]
Following the destruction of Tribute and the Vestol Corporation, Hannibal took the role of manufacturer for the Rogue MJOLNIR Armor.[2]
Hannibal Weapon Systems also has modified a variety of vehicles. This includes the AV-49 Attack VTOL, the M820 Main Battle Tank, and the HRUNTING/YGGDRASIL Mark IX Armor Defense System.
Buildings
Edit
Hannibal also provided some materials for the Casbah Station.[3]
Facilities
Edit
Hannibal operates a large facility in New Mombasa, Earth.[4]
Appearances
Edit
Community content is available under
CC-BY-SA
unless otherwise noted.