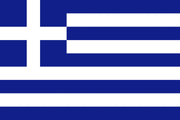 The Hellenic Republic (or Greece) is a south-eastern European country located on Earth.
At some point before the Covenant attacked Earth, Orbital Defense Platform Athens Station was constructed over its capital, Athens.[1]
Many aspects of Greek culture had an impact on interstellar humans. This includes project names like the ORION Program and its successors (SPARTAN-II, III, and !V programs). They were named after aspects of Sparta. Several planets are named from Greek culture:
Other References to Greece in Halo Edit
Locations
Edit
↑ Halo 2 level Cairo Station
Community content is available under
CC-BY-SA
unless otherwise noted.