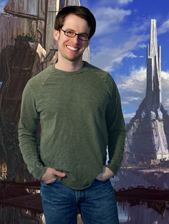 Joseph Staten, aka deckard, was the lead writer and cinematics director for Halo: Combat Evolved, Halo 2 and Halo 3: ODST. He was also partially involved in writing Halo 3, along with Luke Smith and Robert McLees.
He also does voices for many of the Unggoy,[1] and also voices the Superintendent in Halo 3: ODST, and is keenly involved with the mission design/story team of Bungie.
Joseph Staten was the biggest character in the Halo 2 Collectors Edition DVD. He even appeared outside of the making of and was in the Deleted Cinematic part as well. He recently appeared on the third and ninth episodes of the Bungie Podcast. Joseph Staten was also the author of the fifth Halo novel, Halo: Contact Harvest.[2]
On September 24, 2013, Joseph Staten stepped down as Bungie's writer and creative director on the studio's upcoming open-world shooter, Destiny. Here are a few words from the man himself:
Dear community friends,
After fifteen great years at Bungie, from the battlefields of Myth to the mysteries of Halo and beyond, I'm leaving to tackle new creative challenges. While this may come as a surprise, fear not. It's been my pleasure building Destiny these past four years, and after the big reveal this Summer, our hugely talented team is on track for greatness. I'll be cheering all of them, with all of you, when the game launches next year. Thank you for your support of me, and your continued support of Bungie. We couldn't have done it without you.
Per Audacia Ad Astra!
- Joseph Staten[3]
On January 9, 2014, it was announced that Staten will return to Microsoft Studios.[4] Joseph also wrote a novella titled Halo: Shadow of Intent, which is slated for release on December 7, 2015.[5]
Gameography
Edit
Oni (2001), Take-Two Interactive Software, Inc.
Halo: Combat Evolved (2001), Microsoft Game Studios
Halo 2 (2004), Microsoft Game Studios
Halo 2: Multiplayer Map Pack (2005), Microsoft Game Studios
Halo 3 (2007), Microsoft Game Studios
Halo 3: ODST (2009), Microsoft Game Studios
Halo: Reach (2010), Microsoft Game Studios
Destiny (2014), Activision