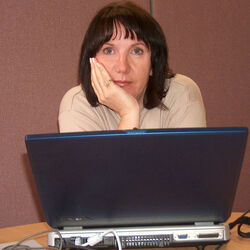 Karen Traviss is a science fiction author from Wiltshire, England. She is a graduate of the Clarion Workshop for science fiction authors, and has previously worked as a journalist and a defense correspondent and served in the Territorial Army and the Royal Naval Auxiliary Service.
In addition to creating her own science fiction universe in the novel City of Pearl and its sequels, Traviss has authored multiple novels using existing intellectual property, most notably in the Star Wars universe. She has also written five novels set in the Gears of War universe, and served as the lead writer for Gears of War 3.
Her first contribution to the Halo universe was the short story Human Weakness in Halo: Evolutions. She is also the author of the Kilo-Five trilogy, set in the post-Human-Covenant war era.[1] The trilogy includes Halo: Glasslands,[2] Halo: The Thursday War,[3] and Halo: Mortal Dictata.