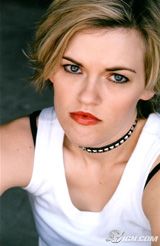 Kari Wahlgren is a career actress with numerous credits to her name. She was born in the small town of Hoisington, Kansas, USA. She majored in theater and graduated from the University of Kansas in 1999. She's mostly known for her vocal portrayals of mature women, teenage girls and various female characters in video games. 4orty2wo Entertainment contracted her for their I Love Bees viral campaign for Halo 2. She played the voice of Janissary James throughout that series.
Known work
Edit
Just a few of her hundreds of credits include:
James Bond 007: From Russia with Love
Legion of Super-Heroes
Soul Calibur III
Star Wars: Episode III - Revenge of the Sith
Star Wars:The Force Unleashed
Final Fantasy XII.
Related Links
Edit
External links
Edit