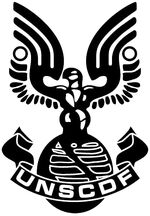 This is a comprehensive list of all known UNSC Military Units, individual military units of the United Nations Space Command and United Nations Space Command Defense Force and their respective sub-organizations. For further information on how UNSC Military units are organized, see UNSC Military Organization.
UNSC Marine Corps
Edit
Aircraft Units
Edit
Orbital Drop Shock Troopers
Edit
Small Units
Edit
Companies
Edit
Fire Teams
Edit
Unknown Strength
Edit
UNSC Army
Edit
Special Warfare Command
Edit
UNSC Air Force
Edit
Spartan Branch
Edit
Fireteams
Edit
Community content is available under
CC-BY-SA
unless otherwise noted.