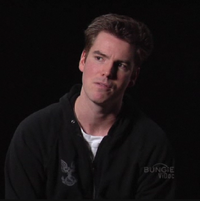 Luke Timmins (aka Abe Fromen SK) is an American video game engineer. Born in Ellicott City, Maryland, USA in 1981, Timmins was hired by Bungie Studios in 2001 and served as SDET and was credited as a video game tester for Halo: Combat Evolved. Later, he was credited as an engineer for Halo 2. He still works at Bungie today, and is assumed to have worked on Halo 3. His gamertag is the namesake for the area called Camp Froman on Zanzibar and Last Resort.
According to the sixteenth episode of the Bungie Podcast, Luke had a run in with the law that resulted in a Class A misdemeanor. More details can be heard on the podcast.[1]
Timmins' gamertag is a reference to the "Camp Froman" area of Zanzibar and its remake Last Resort.
Community content is available under
CC-BY-SA
unless otherwise noted.