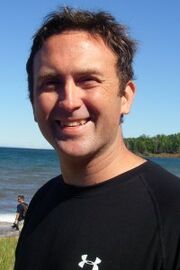 Matt Forbeck is an American author and game designer. He has worked with many companies, such as Activision, Blizzard, ArenaNet, and Atari. He also has designed card games, roleplaying games, miniatures games, board games, and logic systems for toys.[1]
He has contributed to the Halo franchise by penning several novels and stories, namely: Halo: New Blood, Lessons Learned from Halo: Fractures, Halo: Legacy of Onyx and Halo: Bad Blood.
He has also written fictional works based on Star Wars, Dungeon & Dragons, Marvel, Guild Wars 2, Blood Bowl, and Knights of the Silver Dragon.