For the first time ever, McFarlane Toys is creating micro sized figures for Halo called Halo: Micro Ops. The first series will be released in August of 2012. Series One will be representing Halo games Halo 3, Halo 3: ODST, and Halo: Reach. McFarlane Toys will be announcing soon what stores they will be available at.
Series One
Edit
Large Carded Sets
Edit
UNSC Falcon
Edit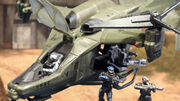 The UH-144 Falcon is a troop transport aircraft of the UNSC used in Halo: Reach. The Falcon is versatile, multi-purpose helicopter that features rotating propellers. The pack also includes Carter-A259 (a member of Noble Team), a Spartan Pilot figure and also a UNSC Trooper. There are 4 pieces total in this set.
High Ground Bunker
Edit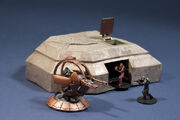 This bunker (also known as a pillbox) can be found located next to an old UNSC base in the High Ground multiplayer map of Halo 3. To replicate the wear of battle, the bunker can be pulled apart and includes a working trap door on roof. Pack also includes a Covenant Shade Turret, along with a red Spartan and a UNSC Marine figure. This set also contains 4 pieces.
Small Carded Sets
Edit
Covenant Banshee
Edit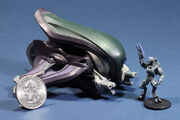 This set includes a Covenant Banshee, a large Covenant vehicle typically used for reconnaissance, ground support, and ground attack missions. The pack also includes an Sangheili Ranger and an Sangheili Spec Ops from Halo:Reach. This set contains 3 total pieces.
ODST Drop Pods
Edit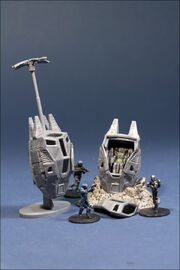 Includes two ODST Drop Pods used by the UNSC to deploy an individual and his equipment from high orbit to the planet surface. The pack also includes a debris base and a drag chute for the Drop Pods, along with figures for the Rookie, Sgt. Edward Buck and Dare from the Halo 3: ODST game campaign. This set contains 5 total pieces. Interestingly, the packaging depicts a SOEIV from Halo: Reach, despite the fact that Dare and the Rookie only appear in Halo 3: ODST.
Ghost vs. Wolf Spider Turret
Edit
Includes a Ghost, which is a Covenant's standard reconnaissance and rapid attack vehicle. The pack also includes a Wolf Spider Turret, an automated defense turret utilized by the UNSC during Halo: Reach, along with Emile-A239 and an Sangheili Spec Ops figure. This set contains 4 total pieces.
Warthog and Mongoose
Edit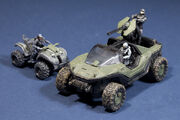 Includes a Warthog, the UNSC's primary ground vehicle and a Mongoose, the UNSC's light ground reconnaissance vehicle, two Spartan figures and one UNSC Trooper figure. 5 total pieces.
Small Boxed Sets
Edit
High Ground Gate
Edit
The UNSC Outpost Gate is part of an old UNSC base in the High Ground multiplayer map of Halo 3 and connects perfectly to the Outpost Tower. Gate includes doors that open and close and a spinning turret. Box also includes a Warthog and two red Spartan figures.
See more information at http://mcfarlane.com/
Community content is available under
CC-BY-SA
unless otherwise noted.