This article is a stub and does not have enough relevant information. You can help by expanding it.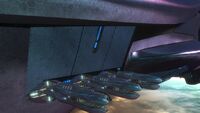 The Melusean-pattern heavy plasma cannon, was a pattern of Plasma firing cannon attached to the side of Covenant Starships.[1]
Operational History
Edit
Six were installed on the Ardent Prayer (three on each side).[1] The Ardent Prayer used her Melusean-pattern cannons to destroy the UNSC Savannah.[2]
24 were installed on all Sinaris-pattern heavy destroyers.[3]
12 were installed on all Mjern-pattern agricultural support ships.[4]
↑ 1.0 1.1 Halo: Warfleet – An Illustrated Guide to the Spacecraft of Halo, Page 76 & 77
↑ Halo: Reach - Level: Long Night of Solace