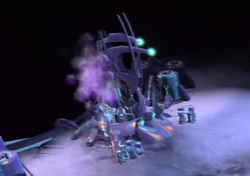 A Methane Refinery is a large Covenant structure that produces methane tanks. They are located in the Halo Wars level Relic Approach on the west part of the map near the Forerunner Relic. There are a total of three refineries and many methane tanks surround them. Destruction of all refineries removes the Covenant's ability to send in dropships.
Trivia
In the level Relic Approach, one of the optional objectives is to destroy the Methane Refineries.
Destroying all the methane tanks near the refineries unlocks the Endless Fun Achievement.
Gallery
Appearances
Community content is available under
CC-BY-SA
unless otherwise noted.