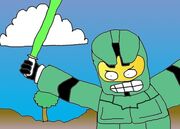 Mister Chief is an unofficial mascot of the Halo series, created by then-Community Manager Frank O'Connor. The character made several appearances in Bungie Weekly Updates during the development of Halo 2 and Halo 3.
Mister Chief made his first appearance on January 16, 2004, on a Bungie Weekly Update by Frank O'Connor. Prior to the weekly update, O'Connor requested to use a promotional poster crafted by Lorraine McLees but told that it was not possible at the time. O'Connor then took the effort of creating his own artistic impression of the promotional poster. The drawing depicted a horribly disfigured Master Chief holding a lightsaber.[1]
After receiving a significant response from the Halo community, O'Connor decided to include another Mister Chief image in Bungie Weekly Updates from then on. Mister Chief has been made in many different styles, including imitation Caravaggio and Japanese manga.
As an April Fools prank in 2008, the staff at Bungie drew Mister Chief's face on the population map in the matchmaking lobby of Halo 3.
It was explained by O'Connor that Mister Chief was supposed to wield a gun instead of a lightsaber. At the time, the gun was hard to draw and the lightsaber was easier.[1]
Mister Chief has been replaced in a couple weekly updates by Mrs. Chief, Evil Chief, and HotTub Guy (something which he believed Prophets to resemble).
On October 2013 a Mister Chief avatar item was added to the Xbox Live avatar store for $2.99 USD.
On May 28, 2014 a Mister Chief skin was added to Minecraft: Xbox 360 Edition via the Halo mashup-pack.
On September 17, 2015, Xbox's YouTube released a video of Mister Chief explaining the Requisition system in Halo 5: Guardians.
On November 26, 2019, Mister Chief got his own sticker in Counter Strike: Global Offensive.
Community content is available under
CC-BY-SA
unless otherwise noted.