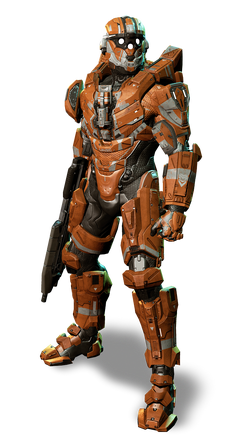 The Mjolnir Powered Assault Armor/CIO is a variant of Mjolnir [GEN2] that is manufactured by Acheron Security and was tested at Gdynia, Acheron Fossae, Mars.
It is used by Counter-Intelligence Operators for intel acquisition and strategic data conveyance deep within enemy territory.[1]
This armor is gained by earning the Spartan Slayer-Master commendation.
The CIO WEB skin was a pre-order bonus from Amazon.
The CIO RUIN skin came as a code from McFarlane purple CIO spartan action figure toy.
The CIO RUSH skin is unlocked in Halo 4 by playing Halo: Spartan Assault in conjunction with purchasing the Halo 4 Bullseye Pack.