The Mjolnir/JFO armor variant is a type of Mjolnir Powered Assault Armor. It was designed and tested by the UNSC at Beweglichkeitsrüstungsysteme on Earth.
Armor Attributes
Edit
Helmet Characteristics
Edit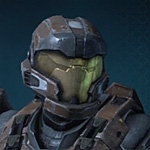 JFO BASE 60,000 cR

PREREQUISITES: Lt. Colonel
>Beweglichrüstungsystem was home to many projects attached to the Mjolnir program.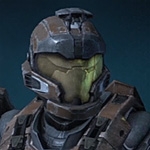 HUL-I 20,000 cR

PREREQUISITES: JFO BASE, Lt. Colonel
>External hardened uplink-improved; upgraded variant of the standard issue HUL unit.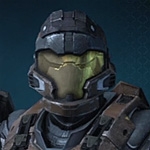 UA 10,000 cR

PREREQUISITES: HUL-I, JFO BASE, Lt. Colonel
>Up-armored variant of the base Mk. V [J] pattern helmet.
Pauldron Characteristics
Edit
JFO LEFT/RIGHT 1,000 cR (Each)
PREREQUISITES: NONE
>Designed and tested at Beweglichrüstungsystem of Essen, Deutschland.
JFO stands for Joint Fires Observer, a United States military designation for troops who coordinate fire support from land-based artillery and naval gun formations, as well as close air support.
The visor of the JFO helmet somewhat resembles the faceplate of the armored Marvel superhero Iron Man.

A way to make a recreation of Iron Man is to have the Gold Visor color, red as your primary color and gold as your secondary color.

It also bears something of a similarity to the helmets worn by officers of the New Mombasa Police Department.
The JFO helmet appears in the armory upon reaching the rank of Warrant Officer, but isn't unlocked until Lt. Colonel.
The JFO Armor System was produced by the same company that made the CQB variant, and has a similar visor configuration: the visor goes over both eyes and stretches down from the nose towards the chin, leaving the cheeks covered. Some have pointed out that this is similar to ancient Greek Corinthian helmets and the helmets used by Clone Troopers in Star Wars.
The JFO shoulders may have originally been intended for use as knee guards, as evidenced by concept art of Carter-A259 and Jun-A266. Concept art of Noble Six has FJ/PARA knees which look quite different, so these could not be the same variant of knee armor.
List of appearances
Edit
Community content is available under
CC-BY-SA
unless otherwise noted.