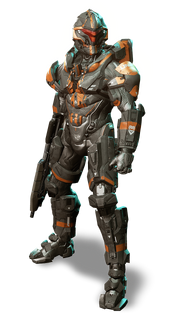 The Mjolnir Powered Assault Armor/Pathfinder, or Pathfinder armor, is a Mjolnir [GEN2] variant used by SPARTAN-IV personnel. It is manufactured by Imbrium Machine Complex and was tested in the "Bosque de Negro" on Luna.[1]
Spartan Tedra Grant of Fireteam Majestic operates blue Pathfinder armor.
Gameplay Notes
Edit
Both the base Pathfinder armor and the CORE armor skin are unlocked by progressing through the PATHFINDER specialization in Halo 4.