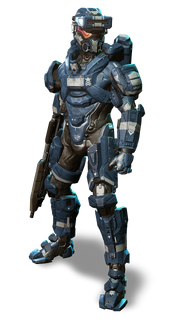 Mjolnir Powered Assault Armor/Scanner is a Mjolnir [GEN2] helmet variant used by SPARTAN-IV personnel that is manufactured by the Office of Naval Intelligence Materials Group and was tested at the Damascus Testing Facility on Chi Ceti IV. While the Scanner helmet is functional for general combat use, it was produced mainly for ONI search-and-rescue strike teams during a time of increased risk of critical government and military personnel being abducted by Insurrectionist forces.[1]
This helmet is included in the War Games Map Pass.
In Halo 5: Guardians, Scanner body armor is highly similar to the Soldier body armor.
Community content is available under
CC-BY-SA
unless otherwise noted.