A nameplate is a small icon that is displayed in multiplayer lobbies next to a player's Gamertag. It can be customized depending on certain requirements. Although nameplate emblems have existed since Halo 2 and Halo 3 in the form of small Seventh Column symbols or the Bungie logo, they have not been customizable until Halo: Reach. First mentioned early 2010, when Halo 2[1] was being shutdown and again when Halo PC users were told to keep their CD codes.[2] Nameplates in Bungie games are no longer changeable, due to Bungie not having control over Halo anymore.

There are only 5 nameplates in Halo 2.[3]

There are only 4 nameplates in Halo 3:[4]
Halo: ReachEdit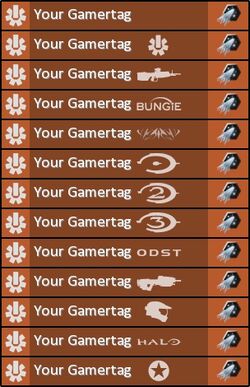 There are 13 nameplates available in Reach. Nameplates were once configurable when you logged in to Bungie.net, now however they are not able to be configured until Halo Waypoint adds the ability to their website.[6]
Halo: The Master Chief CollectionEdit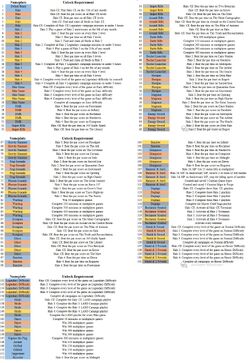 There are 157 nameplates in Halo: The Master Chief Collection, with different emblems and colors. They can be unlocked and selected in-game.
The names and descriptions here are taken from the in-game menu. Where no color is stated, the nameplate is blue, except for the "early adopter" nameplates (number 153-157) which are all platinum.
Default/Blank emblem - Unlocked by default
Halo: CE - Halo: CE: Play Halo: CE on the 15th of any month
Bronze Halo: CE - Halo: CE: Beat the par score on all Halo: CE levels
Silver Halo: CE - Halo: CE: Beat par time on all Halo: CE levels
Gold Halo: CE - Halo: CE: Find and claim all Skulls in Halo: CE
Platinum Halo: CE - Halo: CE: Complete all Halo: CE Legendary campaign missions in under 3 hours
Halo 2 - Halo 2: Play a game of Halo 2 Anniversary on the 9th of any month
Bronze Halo 2 - Halo 2: Beat the par score on every Halo 2 level
Silver Halo 2 - Halo 2: Beat par time on all Halo 2 levels
Gold Halo 2 - Halo 2: Find and claim all Skulls in Halo 2
Platinum Halo 2 - Halo 2: Complete all Halo 2 Legendary campaign missions in under 3 hours
Halo 3 - Halo 3: Play a game of Halo 3 on the 25th of any month
Bronze Halo 3 - Halo 3: Beat the par score on every Halo 3 level
Silver Halo 3 - Halo 3: Beat par time on all Halo 3 levels
Gold Halo 3 - Halo 3: Find and claim all Skulls in Halo 3
Platinum Halo 3 - Halo 3: Complete all Halo 3 Legendary campaign missions in under 3 hours
Halo 4 - Halo 4: play a game of Halo 4 on the 6th of any month
Bronze Halo 4 - Halo 4: Beat the par score on every Halo 4 level
Silver Halo 4 - Halo 4: Beat the par time on all Halo 4 levels
Gold Halo 4 - Halo 4: Complete every level of the game on Legendary difficulty, by yourself
Platinum Halo 4 - Halo 4: Compelte all Halo 4 Legendary campaign missions in under 3 hours
Halo - Halo: CE: Complete every level of the game on Easy difficulty
Bronze Halo - Halo 2: complete every level of the game on Easy difficulty
Silver Halo - Halo 3: Complete every level of the game on Easy difficulty
Gold Halo - Halo 4: Complete every level of the game on Easy difficulty
Platinum Halo - Complete all campaigns on Easy difficulty
DMR - Halo 4: Beat the par score on Forerunner
Bronze DMR - Halo 4: Beat the par score on Infinity
Silver DMR - Halo 4: Beat the par score on Reclaimer
Gold DMR - Halo 4: Beat the par score on Shutdown
Platinum DMR - Halo 4: Beat the par score on Composer
Sniper Rifle - Halo: CE: Beat the par time on 343 Guilty Spark
Bronze Sniper Rifle - Halo: CE: Beat the par time on The Library
Silver Sniper Rifle - Halo: CE: Beat the par time on Two Betrayals
Gold Sniper Rifle - Halo: CE: Beat the par time on Keyes
Platinum Sniper Rifle - Halo: CE: Beat the par time on The Maw
Assault Rifle - Halo: CE: Beat the par time on The Silent Cartographer
Bronze Assault Rifle - Halo: CE: Beat the par time on Assault on the Control Room
Silver Assault Rifle - Halo: CE: Beat the par time on The Pillar of Autumn
Gold Assault Rifle - Halo: CE: Beat the par time on Halo
Platinum Assault Rifle - Halo: CE: Beat the par time on The Truch and Reconciliation
Battle Rifle - Win 100 multiplayer games
Bronze Battle Rifle - Complete 150 missions or multiplayer games
Silver Battle Rifle - Complete 200 missions or multiplayer games
Gold Battle Rifle - Complete 300 missions or multiplayer games
Platinum Battle Rifle - Complete 400 missions or multiplayer games
Rocket Launcher - Halo 2: Beat the par time on Cairo Station
Bronze Rocket Launcher - Halo 2: Beat the par time on Outskirts
Silver Rocket Launcher - Halo 2: Beat the par time on Metropolis
Gold Rocket Launcher - Halo 2: Beat the par time on The Arbiter
Platinum Rocket Launcher - Halo 2: Beat the par time on The Oracle
Shotgun - Halo 2: Beat the par time on Delta Halo
Bronze Shotgun - Halo 2: Beat the par time on Regret
Silver Shotgun - Halo 2: Beat the par time on Sacred Icon
Gold Shotgun - Halo 2: Beat the par time on Quarantine Zone
Platinum Shotgun - Halo 2: Beat the par time on Gravemind
Magnum - Halo 2: Beat the par time on Uprising
Bronze Magnum - Halo 2: Beat the par time on High Charity
Silver Magnum - Halo 2: Beat the par time on The Great Journey
Gold Magnum - Halo 2: Beat the par score on Cairo Station
Platinum Magnum - Halo 2: Beat the par score on Outskirts
Energy Sword - Halo 2: Beat the par score on Metropolis
Bronze Energy Sword - Halo 2: Beat the par score on The Arbiter
Silver Energy Sword - Halo 2: Beat the par score on The Oracle
Gold Energy Sword - Halo 2: Beat the par score on Delta Halo
Platinum Energy Sword - Halo 2: Beat the par score on Regret
Gravity Hammer - Halo 3: Beat the par score on Floodgate
Bronze Gravity Hammer - Halo 3: Beat the par score on The Ark
Silver Gravity Hammer - Halo 3: Beat the par score on The Covenant
Gold Gravity Hammer - Halo 3: Beat the par score on Cortana
Platinum Gravity Hammer - Halo 3: Beat the par score on Halo
Frag Grenade - Halo 2: Beat the par score on Sacred Icon
Bronze Frag Grenade - Halo 2: Beat the par score on Quarantine Zone
Silver Frag Grenade - Halo 2: Beat the par score on Gravemind
Gold Frag Grenade - Halo 2: Beat the par score on Uprising
Platinum Frag Grenade - Halo 2: Beat the par score on High Charity
Plasma Grenade - Halo 2: Beat the par score on The Great Journey
Bronze Plasma Grenade - Halo 3: Beat the par score on Sierra 117
Silver Plasma Grenade - Halo 3: Beat the par score on Crow's Nest
Gold Plasma Grenade - Halo 3: Beat the par score on Tsavo Highway
Platinum Plasma Grenade - Halo 3: Beat the par score on The Storm
Warthog - Win 50 multiplayer games
Bronze Warthog - Complete 250 missions or multiplayer games
Silver Warthog - Complete 350 missions or multiplayer games
Gold Warthog - Complete 450 missions or multiplayer games
Platinum Warthog - Complete 500 missions or multiplayer games
Scorpion - Halo: CE: Beat the par score on The Silent Cartographer
Bronze Scorpion - Halo: CE: Beat the par score on Assault on the Control Room
Silver Scorpion - Halo: CE Beat the par score on The Pillar of Autumn
Gold Scorpion - Halo: CE: Beat the par score on Halo
Platinum Scorpion - Halo: CE: Beat the par score on The Truth and Reconciliation
Ghost - Halo: CE: Beat the par score on 343 Guilty Spark
Bronze Ghost - Halo: CE: Beat the par score on The Library
Silver Ghost - Halo: CE: Beat the par score on Two Betrayals
Gold Ghost - Halo: CE: Beat the par score on Keyes
Platinum Ghost - Halo: CE: Beat the par score on The Maw
Banshee - Halo 4: Beat the par time on Dawn
Bronze Banshee - Halo 4: Beat the par time on Requiem
Silver Banshee - Halo 4: Beat the par time on Forerunner
Gold Banshee - Halo 4: Beat the par time on Infinity
Platinum Banshee - Halo 4: Beat the par time on Reclaimer
Mongoose - Halo 4: Beat the par time on Shutdown
Bronze Mongoose - Halo 4: Beat the par time on Composer
Silver Mongoose - Halo 4: Beat the par time on Midnight
Gold Mongoose - Halo 4: Beat the par score on Dawn
Platinum Mongoose - Halo 4: Beat the par score on Requiem
Forge - Halo 2A MP: Get 25 melee kills in multiplayer
Bronze Forge - Halo 2A MP: In Anniversary multiplayer, receive 2 or more Double Kill medals
Silver Forge - Halo 2A MP: In Anniversary matchmaking, stop the killing spree of another player
Gold Forge - Created and saved 5 Custom Game types
Platinum Forge - Created and saved 5 Custom Maps in Forge
Halo: CE: Complete three Halo: CE playlists
Halo 2: Complete three Halo 2 playlists
Halo 3: Complete three Halo 3 playlists
Halo 4: Complete three Halo 4 playlists
Complete the Master Chief Saga playlist
Reclaimer - Halo: CE: Activate all Halo: CE Terminals
Bronze Reclaimer - Halo 2: Activate all Halo 2 Terminals
Silver Reclaimer - Halo 3: Activate all Halo 3 Terminals
Gold Reclaimer - Halo 4: Activate all Halo 4 Terminals
Platinum Reclaimer - Activate every terminal
Demon - Halo: CE: Complete every level of the game on Normal difficulty
Bronze Demon - Halo 2: Complete every level of the game on Normal difficulty
Silver Demon - Halo 3: Complete every level of the game on Normal difficulty
Gold Demon - Halo 4: Complete every level of the game on Normal difficulty
Platinum Demon - Complete all campaigns on Normal difficulty
Halo: CE: Complete every level of the game on Heroic difficulty
Halo 2: Complete every level of the game on Heroic difficulty
Halo 3: Complete every level of the game on Heroic difficulty
Halo 4: Complete every level of the game on Heroic difficulty
Complete all campaigns on Heroic difficulty
Halo: CE: Complete every level of the game on Legendary difficulty
Halo 2: Complete every level of the game on Legendary difficulty
Halo 3: Complete every level of the game on Legendary difficulty
Halo 4: Complete every level of the game on Legendary difficulty
Complete all campaigns on Legendary difficulty
Halo: CE: Complete the Halo: CE LASO campaign playlist
Halo 2: Complete the Halo 2 LASO Campaign playlist
Halo 3: Complete the Halo 3 LASO Campaign playlist
Halo 4: Complete the Halo 4 LASO Campaign playlist
Complete the LASO playlist for every Halo game
Slayer - Complete 50 missions or multiplayer games.
Bronze Slayer - Win 200 multiplayer games
Silver Slayer - Win 300 multiplayer games
Gold Slayer - Win 400 multiplayer games
Platinum Slayer - Win 500 multiplayer games
Flag - Complete 100 missions or multiplayer games
Assault - Win 150 multiplayer games
Grifball - Win 250 multiplayer games
Oddball - Win 350 multiplayer games
Juggernaut - Win 450 multiplayer games
Ricochet - Halo 4: Beat the par score on Midnight
Golden - Play Halo: The Master Chief Collection before December 19, 2014
Pro - Play Halo: The Master Chief Collection before December 19, 2014
MVP - Play Halo: The Master Chief Collection before December 19, 2014
UNSC - Play Halo: The Master Chief Collection before December 19, 2014
1th - Play Halo: The Master Chief Collection before December 19, 2014
External links
Edit