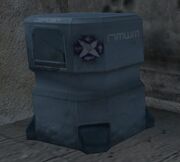 New Mombasa Waste Management, abbreviated NMWM, was a waste management company serving the greater Mombasa area, primarily in New Mombasa. The company's logo shows 4 pictures of which three are identifiable: A bird at the top, a human on the right, and a plane at the bottom. The picture on the left is blurred and unrecognizable.
During the Battle of Mombasa, the Superintendent used an Olifant to destroy and NMPD Pelican and dump trash on Commissioner Kinsler to stop him from harming Sadie Endesha. Both Sadie and Mike Branley then took the Olifant.[1] From there, they drove all the way to New Mombasa, picking up Tom Uberti.[2] After being there for a short time, their Olifant was destroyed by a Wraith.[3]
Later on in the battle, Veronica Dare and Quick to Adjust acquired an Olifant and drove it along the Waterfront Highway until they were picked up.[4]
They provided public garbage cans and recycle dumpsters for public dispense. These cans could be seen all over New Mombasa[5] and Old Mombasa.[6] They collect garbage using state of the art Olifants,[7] which have a direct link to the Superintendent.[1]
NMWM also provided waste services in Voi and it's surrounding areas.[8]
↑ Halo 3: ODST - Audio Log: Sadie's Story, Circle 6, Arc 1
↑ Halo 3: ODST - Audio Log: Sadie's Story, Circle 6, Arc 3
↑ Halo 3: ODST - Level: Coastal Highway
↑ Halo 2 - Level: Metropolis
↑ Halo 3: ODST - Audio Log: Sadie's Story, Circle 3, Arc 3
Community content is available under
CC-BY-SA
unless otherwise noted.