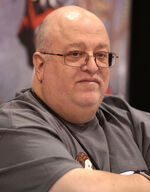 Peter David was born in 1956. His writing career consists of comic books, novels, television, films and video games. He is most known for his works on comics, including but not limited to The Incredible Hulk, Supergirl, Aquaman, Young Justice, Fallen Angel and X-Factor.
Early life
Edit
Peter David was born in 1956 in Fort Meade, Maryland. His writing career sprung at the age of 12, partially because his father sometimes wrote movie reviews. His love for comics died out when he entered his teens, but this was not the end. In 1978 he rediscovered comics partially due to Superman vs. Muhammad Ali. Nowadays he has written countless of novels, comics, etc.
Halo Works
Edit
Within the Halo universe, Peter David has written Halo: Hunters in the Dark in June 2015 and Halo: Helljumper from July 2009 till November the same year.
Bibliography
Edit
This is a part of his bibliography
This Is Your Life, Bhodi Li (1987)
The Atlantis Chronicles (1990)
Alien Nation: Body and Soul (1993)
Cacophony (1994)
Beam Me Up, Scotty (1996)
Dinotopia: The Maze (1998)
Captain Marvel Vol. 4 #1–35 (1999-2002)
Captain Marvel Vol. 5 #1–25 (2002-2004)
Battlestar Galactica: Sagittarius Is Bleeding (2006)
She-Hulk Vol. 2 #22–38 (2007-2009)
Halo: Helljumper (2009)
Fable: The Balverine Order (2010)
Halo: Hunters in the Dark (2015)
The Rocketeer (1991)
The Incredible Hulk (2008)
Iron-Man (2008)
Transformers: Dark of the Moon (2011)
After Earth (2013)