Peter Jackson (born October 31, 1961) is a New Zealand-born filmmaker best known as the director of The Lord of the Rings trilogy, which he, along with his long time partner, Fran Walsh, and Philippa Boyens adapted from the novels by J.R.R. Tolkien. He is also known for his remake of King Kong.
With his successes and innovative film-making, Jackson is now considered to be an important force in the new generation of motion picture directors. Peter Jackson is also executive producing the game-to-film adaptation of Microsoft/Bungie's blockbuster title Halo, expected to hit theaters around mid-2012. Jackson, an avid fan of the game, has confessed to playing it regularly during breaks in filming.[1]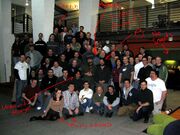 In addition, Jackson has partnered with Microsoft Game Studios to form Wingnut Interactive.
Peter Jackson has produced a remake of The Dam Busters in 2007, along with Sir David Frost as executive producer. Jackson has also earned the rights to a film adaptation of the fantasy novel series Temeraire, though it remains to be seen if he directs it.
Movies
1976: The Valley
1987: Bad Taste
1989: Meet the Feebles
1992: Braindead
1994: Heavenly Creatures
1995: Forgotten Silver
1996: The Frighteners
2001: The Lord of the Rings: The Fellowship of the Ring
2002: The Lord of the Rings: The Two Towers
2003: The Lord of the Rings: The Return of the King
2005: King Kong
2009: The Lovely Bones
2012: The Hobbit: An Unexpected Journey
2013: The Hobbit: The Desolation of Smaug
2014: The Hobbit: The Battle of the Five Armies
External links
Trivia
Peter Jackson was originally going to be the director of the Halo movie, but he decided to give the job to Neil Blomkamp because he was tired from working on King Kong, and felt he needed a break.
When plans for the Halo movie fell through, Jackson and Neil Blomkamp produced the movie "District 9," as Peter Jackson still wanted to produce a film for Blomkamp.
See also
Sources