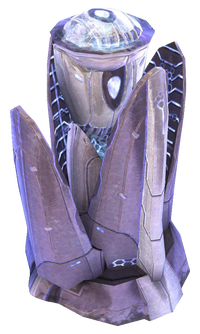 Portable holo-pedestals are portable, cylindrical Holotanks used by the Covenant; they are frequently used by the Hierarchs to record[1] and project holograms of themselves giving speeches to the Covenant troops.[2][3]
In both Halo 2 and Halo 3, the Reticle tracks the hologram (though it doesn't turn red) and a melee treats it as an enemy.
It is possible to destroy a Holo-Pedestal with a singe melee in Halo 3.
Appearances
Edit