This article is about upcoming material. Editors must cite sources for all contributions to this article. Edits that do not follow this standard will be reverted without notice.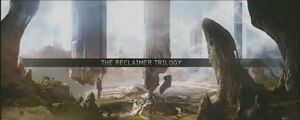 | | | |
| --- | --- | --- |
| | The journey is the important part, the growth is the important part, and so really where does he still need to go as a human? That became the key to, not just the story of Halo 4, but the entire trilogy. | |

The Reclaimer Saga[2][3], originally called the Reclaimer Trilogy, is the next generation following the Original Trilogy. The saga began with Halo 4, which was released on November 6, 2012.[4][5] The saga continued with Halo 5: Guardians upon release on October 27, 2015, and will continue with Halo Infinite releasing in 2021.
Main article: Halo 4
"Set in the aftermath of Halo 3, Master Chief returns to confront his own destiny and face an ancient evil that threatens the fate of the entire universe. Halo 4 marks the start of a new trilogy that begins with its release in 2012."
In Halo 4, John-117 returns as the protagonist after three Halo games focusing on different characters. Having been lost in space in the finale of Halo 3, John-117 and Cortana, adrift aboard the wreckage of UNSC Forward Unto Dawn, find themselves near Requiem, the planet first seen in the Legendary ending of Halo 3.[6] When John-117 accidentally releases the Ur-Didact, an ancient Forerunner plotting to have all humans either imprisoned or destroyed, John's mission becomes stopping the Ur-Didact.
Halo 5: GuardiansEdit
Main article: Halo 5: Guardians
"An unstoppable force threatens the galaxy, and the Master Chief is missing. An epic story and two new multiplayer modes mark the greatest evolution in Halo history."
Halo InfiniteEdit
Main article: Halo Infinite
"The Master Chief returns in the next chapter of the legendary franchise in Halo Infinite. Developed by 343 Industries and created with the studio's new Slipspace Engine, Halo Infinite debuted at the Xbox E3 2018 Briefing with a thrilling engine demo that provides a glimpse into the future of the Halo franchise that leads it into new and unexpected directions."
Halo Infinite is an upcoming Halo game announced at E3 2018, via the Halo Infinite Announcement Trailer.
The Reclaimer Saga is the first set of games to introduce the Prometheans, artificial intelligences made by the Forerunners.
The Reclaimer Saga was originally known as the Reclaimer Trilogy. However, according to Microsoft's Phil Spencer, Microsoft "expanded this to more of a saga, so we don't want to limit the Reclaimer story within a trilogy."[9]
The Halo 4 Limited Edition says "The Reclaimer Saga Begins" on the back of the sleeve.
 

Halo trilogy

Reclaimer Saga

Other FPS games
Strategy games
Top-down shooters
Virtual reality games
Arcade games
Multiplayer expansions
Ports
Bundles
Cancelled titles

Italics indicate upcoming releases.
Community content is available under
CC-BY-SA
unless otherwise noted.