| | |
| --- | --- |
| | This article may not meet Halo Alpha's standards. You can help by cleaning this article. |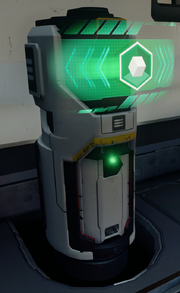 The requisition system is a feature in Halo 5: Guardians Arena and Warzone multiplayer that grants players cosmetic and in-game bonuses.[1] Requisitions (REQs) are unlocked by obtaining Requisition Packs, which can be earned through gameplay or purchased via the Xbox Store.[1]
Types of Requisitions
[
]
Unlimited-Use Requisitions
[
]
Unlimited-use requisitions are cosmetic items, such as weapon skins, armor permutations, or assassination animations.[1][2] These requisitions can be used in both Arena and Warzone.[1]
Single-Use Requisitions
[
]
Single-use requisitions are items that give in-game advantages, such as power weapons or vehicles.[1] These cards can only be used in Warzone.[1]
Each single-use requisition has a REQ level requirement that must be met before it can be used.[2] A player's REQ level can be raised by killing or assisting in killing AI bosses or other players.[2] When used, single-use requisitions consume energy, which is earned automatically over time.[2] Higher REQ levels allow players to hold more energy in reserve at once.[2]
Obtaining Requisition Packs
[
]
Requisition Packs can be earned by ranking up in Spartan Rank or completing Commendations.[1] Completing Arena or Warzone matches rewards Requisition Points, which can be used to purchase Requisition Packs.[1] Requisition Packs can also be purchased with real money via microtransactions.[1] 14 Premium Requisition packs will be included in the Halo 5: Guardians Limited Edition and Limited Collector's Edition.[3]
List of Requisitions
[
]
Cosmetic Items
[
]
Boosts and Perks
[
]
| Mod | Rarity |
| --- | --- |
| Advanced Sensors | Common |
| Auto-Medic | Common |
| Death from Above | Uncommon |
| Frag Grenade Expert | Rare |
| Plasma Grenade Expert | Ultra-Rare |
| Reflex Enhancers | Rare |
| Speed Boosters | Ultra-Rare |
| Splinter Grenade Expert | Rare |
| Upgraded Shields | Uncommon |
| Upgraded Thrusters | Ultra-Rare |
| Certification | Rarity |
| --- | --- |
| SAW Certification | Common |
| Boltshot Certification | Common |
| Plasma Pistol Certification | Common |
| Shotgun Certification | Common |
| Storm Rifle Certification | Common |
| Suppressor Certification | Common |
| Chaingun Turret Certification | Common |
| Railgun Certification | Common |
| Needler Certification | Common |
| Carbine Certification | Common |
| Gungoose Certification | Common |
| Mongoose Certification | Common |
| Corp Mongoose Certification | Common |
| Urban Mongoose Certification | Common |
| Oni Mongoose Certification | Common |
| Warthog Certification | Common |
| Scout Warthog Certification | Common |
| Urban Scout Warthog Certification | Common |
| Corp Scout Warthog Certification | Common |
| Oni Scout Warthog Certification | Common |
| Sword Ghost Certification | Uncommon |
| Lawgiver Certification | Uncommon |
| Fuel Rod Cannon Certification | Uncommon |
| Sniper Rifle Certification | Uncommon |
| Hydra Launcher Certification | Uncommon |
| Ghost Certification | Uncommon |
| Scorpion Certification | Rare |
| Boost | Uses | Rarity | Reward |
| --- | --- | --- | --- |
| Arena XP Boost | Single-use | Common | |
| Gambit: Assists | Single-use | Common | |
| Arena XP Boost | Single-use | Uncommon | |
| Arena RP Boost | Single-use | Uncommon | |
| Gambit: Spartan Kills | Single-use | Uncommon | |
| Mission: Victory | Single-use | Uncommon | |
| Arena XP Jackpot | Single-use | Uncommon | |
| Arena XP Boost | Single-use | Rare | |
| Arena RP Boost | Single-use | Rare | |
| Gambit: Medal Count | Single-use | Rare | |
| Arena RP Jackpot | Single-use | Rare | |
| Arena RP Boost | Single-use | Ultra-Rare | |
| Mission: Victory | Single-use | Ultra-Rare | 700 RP |
| Arena XP Boost | Single-use | Legendary | 750 RP |
| Arena XP Boost | Single-use | Legendary | 2,808 XP |
| Warzone XP Boost | Single-use | Common | |
| Warzone XP Boost | Single-use | Uncommon | 3,371 XP |
| Warzone RP Boost | Single-use | Uncommon | 1,000 RP |
| Gambit: Assist | Single-use | Uncommon | 4,492 XP |
| Mission: Victory | Single-use | Uncommon | 4,492 XP |
| Warzone XP Jackpot | Single-use | Uncommon | |
| Warzone XP Boost | Single-use | Rare | 4,492 XP |
| Warzone RP Boost | Single-use | Rare | 1,500 RP |
| Gambit: Spartan Kills | Single-use | Rare | 5,615 XP |
| Warzone RP Jackpot | Single-use | Rare | |
| Warzone RP Boost | Single-use | Ultra Rare | 2,000 RP |
| Mission: Victory | Single-use | Ultra Rare | 3,000 RP |
| Gambit: Medal Count | Single-use | Ultra Rare | 11,230 XP |
| Warzone XP Boost | Single-use | Legendary | 11,235 XP |
| Warzone RP Boost | Single-use | Legendary | 5,000 RP |
| Gambit: AI Kills | Single-use | Legendary | 16,845 XP |
Warzone Requisitions
[
]
Gallery
[
]
Menus
[
]
REQ Packs
[
]
In-Match
[
]
Sources
[
]