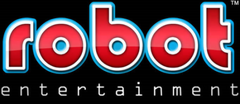 Robot Entertainment is a video game developer established in 2009 based in Plano, Texas in the United States.
It was formed by ex-Ensemble employees, including former CEO Tony Goodman, and is comprised of 45 former Ensemble Studios employees, after the closure of Ensemble by Microsoft in September 2008.[1] They are responsible for the maintaining of Halo Wars, as well as the creation of new content.
As of February 28, 2010, Halo Wars and HaloWars.com support operations was transferred from Robot Entertainment to Halo Waypoint.[2]
Their first game, released in 2011, was a collaboration with Microsoft entitled Age of Empires Online, a free-to-play Games for Windows Live game, and a continuation of Ensemble Studios's Age of Empires series.[3] It was announced on February 24, 2011 that Gas Powered Games had taken over development from Robot Entertainment.
Robot Entertainment released Orcs Must Die, a third-person tower defense game where the player uses an assortment of weapons and traps to prevent orcs from reaching a rift, on October 12, 2011 for PC and Xbox Live Arcade. Two DLC were subsequently released. Orcs Must Die 2 was released on July 30, 2012 exclusively for PC, which added cooperative play, endless mode, trinkets and a new upgrade system to the mix as well as well as new traps, weapons and maps. As of April 2013, three DLC has been released, adding new traps, weapons, trinkets, and maps.
Hero Academy, a turn-based strategy game where the player, through five moves a turn, aims to destroy their opponet's crystals or defeat all of their units, was released on January 11, 2012 on iOS, and later on Mac and PC. As of April 2013, 6 factions are included in the game.
| Name | Release Date | Genre |
| --- | --- | --- |
| Age of Empires Online | 2011[4] | RTS (real-time strategy) |
| Orcs Must Die! | October 12, 2011 | Tower Defense / Third Person Action |
| Hero Academy | January 11, 2012 | Turn-based strategy |
| Orcs Must Die! 2 | July 30, 2012 | Tower Defense / Third Person Action |
Related Pages
Edit
Community content is available under
CC-BY-SA
unless otherwise noted.