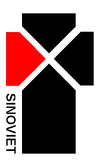 Sinoviet Heavy Machinery was a human technology and transportation company.[1]
Main article: Human-Covenant war
Main article: Fall of Reach
The Sinoviet Center would come under siege by Yanme'e during the Raid on New Alexandria.[2]
On August 30, 2552, the Aszod ship breaking yards would become the last extraction site on the Eposz continent.[3] It would also be where the UNSC Pillar of Autumn was docked before it would leave for Installation 04.[4]
Following the end of the war, Sinoviet began manufacturing the Autumn-class heavy cruiser.[5] Sinoviet would also begin to design components for Second Generation MJOLNIR Armor. An example would be the LCX-20V1 sight for the Scanner Armor.[6]
Sinoviet Heavy Machinery offers ship breaking services.[4]
Sinoviet maintained offices in New Mombasa.[7] As well, they had offices in Noctus, Andesia.[8]
Community content is available under
CC-BY-SA
unless otherwise noted.