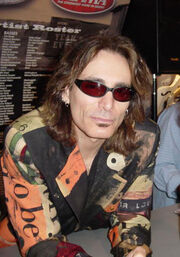 Steven Siro Vai (born June 6, 1960 in Carle Place, New York) is an American guitarist, composer, and record producer, notable for having received a Grammy Award (along with nine nominations) and being cited as an influence by many guitarists ever since the 1980s. When growing up, the young Vai became interested in rock giants such as Jimi Hendrix, Alice Cooper and Led Zeppelin which led him to take up learning the guitar. Prior to attending Berklee College of Music, Steve frequently jammed with his teacher Joe Satriani and played in numerous local bands. He has acknowledged the influence of many guitarists, including Jeff Beck and fusion guitarist Allan Holdsworth.
He worked with Martin O'Donnell and Michael Salvatori for production of sound in Halo 2. He also worked on some of the songs in the Halo 2: Original Soundtrack as a guitarist, in which his performance was featured in the songs Reclaimer and Halo Theme MJOLNIR Mix. He later returned to work on the Halo 2: Anniversary Original Soundtrack, performing as a guitarist in the updated versions of his two previous tracks: Halo Theme Gungnir Mix and Genesong.
Community content is available under
CC-BY-SA
unless otherwise noted.