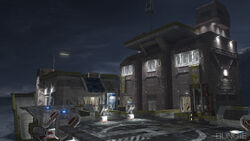 UNSC Weather Station Z/41 is a United Nations Space Command weather research facility based in the Arctic region.[1]
Background
Edit
It is involved in taking glacier core samples and has a Doppler Radar facility for taking wind speed measurements, and includes a platform for aerial transport.[2] Overhead, the Aurora Borealis can be seen flickering through the sky.[3]
The station seems to be an abandoned drilling platform converted for use as a weather station, located near an ice shelf. It is divided into four "towers," labeled Maintenance, Communications, Barracks and Laboratory.
The facility is the setting for the Halo 3: Legendary map pack map, Blackout. Although its predecessor in Halo 2, Lockout, was a facility created to study the Flood. This could lead to thoughts on how humans made something exactly similar to the Forerunner, especially considering its impractical (for humans) designs.
Bungie tasked the fans with coming up for a back story for Blackout and Z/41.
This is the setting for the machinima "Forecast: the Series"
Community content is available under
CC-BY-SA
unless otherwise noted.