Well, there's not much really to say about me. I'm a guy, I'm moderately tall, and I love Halo! I first got the Halo triple pack on Friday the Fourteenth of March, 2008, and I completed Halo: Combat Evolved the following Monday, and I thought it was excellent. That very same day, I started Halo 2, which I haven't quite finished! My favourite level on Halo CE was... hmm.... toughy... well, I'd probably say The Maw, or Two Betrayals, they were fun. I also loved driving the Scorpion in Halo CE, that was a highlight for me. In Halo 2? I liked playing as the Arbiter, and the Fuel Rod Cannon was a highlight for me, as were the improved levels and greater details into the Covenant.
My views on Halo
Edit
I can't comment on the campaign of Halo 3, as I've only onece played on the forge, and I've only recently finished Halo 2, but I've already formulated views on both that, and Halo CE. I find the
Forerunners
fascinating, and, so far, I prefer the
Covenant
in every respect, bar that of the
SPARTAN-II Program
, which is just awesome, to the
UNSC
, who I find quite boring. My favourite craft that can be used to traverse battlefields in a fast way is the
Ghost
, as only the Ghost and the
Warthog
fall into this category. I don't particularly like turrets, they're OK, but I do love
Scorpions
and other heavy assault vehicles.
Banshees
are great, and I just love their manouvreability, and flying ability. I also liked the fact that both Ghosts and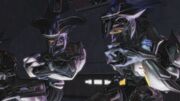 Warthogs gained more manouvreability, became more aesthetically pleasing, became more powerful, and more fast. Now, this brings me onto the subject of the
Flood
. I recognise the fact that the Flood play a very key part in the storyline, but that doesn't make me like them! I don't so much mind the Combat Form, but the Infection Form annoy me, as they're all so weak, and they'res so many! Carrier forms I hate, and I think that Bungie should, in no way, have included them in any of the games. The others actually have a key part to play, but Carrier Form's are just useless and downright annoying! I don't particularly like the Flood overall, much rather be fighting Covy's. I love the mystery behind the
Forerunners
, as I think I've said, and I love the technology of the Halo universe, and the
Hierarchs
. The SPARTAN Project I also find fascinating, as I like science and technology. On the subject of weapons: There's no point in fancy tactics, all you really want is a big, fully charged Energy Sword, to bash, slash, or hack them apart. Brute force is the answer, not tactics. However, I do enjoy a bit of tactics now and again, and the
Covenant Carbine
is pretty good, and I find the
Beam Rifle
to be a powerful and good sniper, when there isn't actually a sniper around. I love
snipers
also, and I really enjoyed the level on Halo 2 where you're outside the temple, and there's all the enemies on the ramparts, and you can just snipe them all off. I don't really like the rocket launcher, I find it to be quite clumsy, and cumbersome. I like powerful or subtly powerful weapons, and I really don't like
Needlers
. Too... weak. The
Fuel Rod Cannon
has great power, and
Gravity Hammers
are just as good, if not better than,
Energy Swords
, but I really love
Missile Pod
's for takin' down big enemies! The beam rifle's ok, as is the sniper, and I quite like the covenant carbine, but weapons of brutal strength, such as the aforementioned and the
shotgun
just beat all of these.
My Favourite Halo ranks
Edit
Well, first I'll start with the UNSC. I really heavily dislike the UNSC, and the only rank or person I like there are the SPARTAN-IIs, who are really quite awesome. I love the idea of having a person bred specifically for war, it excites me. With the Covenant, I really like Elites, especially the Zealots and Honor Guards, who are great. The Prophets really interest me, as they have so much power, and are so skilful with trickery and lies, and with diplomatic skill and infamous intelligence. I like the Brutes, but I marginally prefer Elite's, however I quite like Tartarus; his brute force really makes me warm to him. The Arbiter's pretty good, although I cannot see why he sided with the UNSC! If I was him, I'd convert John-117 to a member of the Covenant, use him to kill the Hierarchs, use him to crush all enemies and then kill him, as he's too dangerous! I would have then taken control of the Covenant for myself, crushed the UNSC and taken the galaxy for my own. Unfortunately, Bungie obviously don't agree with me, (plaintative sigh) so The Arbiter ends up 'good'. Good however, is merely an opinion, as I explain further on.
My Halo beliefs
Edit
I think that there isn't really a good or bad, there's just opinion. For example, the UNSC believe the Covenant is 'bad', they obviously would, as the Covenant are trying to kill out all humans, however the Covenant believe that they are doing this for the 'good' of their religion, therefore they believe they are 'good'. The Covenant also believe that humans are an affront to their religion, so they are 'bad'. The UNSC believe that they have a right to live, therefore they are 'good'. Often, there is no good and bad, sometimes there is just an argument, or a misunderstanding. Sometimes though, there is bad and good, but not in the Halo universe. The Flood aren't evil, they have only the mind of the Gravemind, so they aren't good or bad, as they have no choice in what they do, and the Gravemind isn't bad. The Gravemind is merely a predator, who's trying to stay alive, very like a lion, a panther or a fungus, and they're not 'bad'. However awesome the Hierarchs are, they are 'bad'. They know that what they are doing is unjustified and wrong, yet they still do it, so they are 'bad'.
My Halo favourite characters
Edit
I really like the brute force of Tartarus, he's awesome, and I like the ability and strength of The Arbiter. Rtas 'Vadum is cool, I like his devil may care attitude, and his indiference towards the life of The Arbiter. The Hierarchs are great, they're all fantastic, especially the High Prophet of Truth. I love his ability to gain loads of power by trickery, and all aspects of the Covenant fascinate me. I like John-117, the Master Chief, as his strong but silent attitude and blunt, weapon loving demeanour is awesome. In Halo CE, I think that Jacob Keyes is pretty cool, but he's UNSC, so I don't like him. Cortana's a pretty cool construct, but 343 Guilty Spark is better. His computer skills and refusal to let the Master Chief win, and wish to wipe the galaxy clean, coupled with his massive sense of immodesty (I am a genius!) makes him really cool. I wish that there was more of 2401 Penitent Tangent however, as he's quite cool but only seen in one cutscene.
My Halopedia Career
Edit
I always knew about Halopedia, as the first wiki I joined was Wookiepedia, I love Star Wars, and I heard of Halopedia from there, but I only just got the games, therefore I have only just been able to edit. So far, I am a Corporal, aspiring to become a Gunnery Sergeant, which is pretty low, but I'm relatively new. I comment on a lot of blogs, vote in polls, and like the picture quizzes. I also edit regularly.
I joined the Covenant of Halopedia, as the Covenant is definitely my favourite faction, so I regularly am active there, and I have plans for creating some CoH medals, you can see the prototypes on the CoH talk page. I'm only a Major Elite, however I haven't been there long, and I'm hopeful! Well, that's all I have for now, hopefully this section will grow! I don't know much about Blemo, but I think that, should HaloDude become an administrator, it would be well deserved; if he looked after Halopedia in the same way he looked after the CoH, Halopedia would be a better wiki all round.
By the way, anyone here who is my friend, please use the template below:

Just copy and paste it onto your userpage.
My Wikia career
Edit
I started out on Wookiepedia, the Star Wars wiki, as I love Star Wars, and I gradually began to see more wiki's, either in the spotlight or on other users talk pages, and I began to visit those also. Currently, I am a member of many wiki's, however I'm only active on a few. I am active on the Cherub wiki, the wiki all about the Cherub books, the Redwall wiki, the wiki all about Redwall, the His Dark Materials wiki (Northern Lights/The Golden Compass) wiki, the Star Wars Fanon wiki, where I am heavily active, and that's all that I can remember! I am a Admin on the Cherub wiki. In addition to this, I have also founded three wikis, the Chronicles of Ancient Darkness wiki (Wolf Brother), the wiki about all the books in the Chronicles of Ancient Darkness series, I also founded the Edge Chronicles wiki, the wiki all about the books in the Edge Chronicles series (You can probably tell that I like books!) and I also co-founded the ITFC wiki, so I'm Beaurecrats on those wikis. I'm quite experienced on wiki's, however you can never learn everything, and compared to people like SysRq868, I know hardly anything! Most likely, I will add to this page, as I join new wiki's but, for now, I'm done!
Community content is available under
CC-BY-SA
unless otherwise noted.