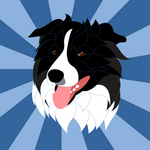 ---
"Now, I am become death, the destroyer of worlds"

— Julius Robert Oppenheimer, Trinity atomic tests (1945)
---
The fauxiest fox that is actually a Border Collie that you'll ever know
I'm an Administrator. I'm also a Furry. What do I do here? Oversee policy on the wikia and occasionally pop on to ensure everything is running smoothly. I'm usually be back to coming here everyday. If I revert your edits or ban you, its not personal. Its merely business. (Mostly.)
Hello, <insert name here>, and welcome to Leo Fox's page! Please view the following options and see if your complaint/question/comment/issue can be dealt with in the following fashions:
Now, if you are looking to know more about me, check out my Halo Fanon userpage.
If you want to leave a message, feel free to do so here or on my Halo Fanon talkpage.
If you need to contact me and do not want to use the talk page, feel free to contact me on Steam. My username is [Leo Collie].
If your issue still cannot be fixed, than please leave a detailed log of the problem and leave it on my Halo Fanon talkpage. Thank you in advance and have a pleasant day.
All visitors, please sign the 'Guest Log'
Contact me · · James-001 · · Find me 01:51, 21 March 2007 (UTC)
The Lieutenant General 03:03, 26 March 2007 (UTC)
SPARTAN-001 [AI•CSV] 14:11, 27 March 2007 (UTC)
4 ever · · Chief frank 001 · · The spartan 13:00, 12 May 2007 (UTC)
Spartan G-23Comm ChannelMission History 23:10, 14 May 2007 (UTC)
DeadGhost - A HERO MUST RISE. BELIEVE. SEPTEMBER, 25th
AJ 22:31, 19 October 2007 (UTC)
Veros 'Murum 10:06, 27 October 2007 (UTC)
Staff Sergeant Masterchief46517 com link C Company 22:51, 28 October 2007 (UTC)
Terror (Talkie Talkie)(Workie Workie) -I'm a Brute not an weak Elite, neither the damn Flood.
Michél-O247 Flood... rebel... I have no idea what I am. -.-
May the gods curse the Jiralhanae, and bless the Sangheili! Kora 'Morhekee
Clavix2 Ya the Brutes are great!!!! And Flood are @$#%&/.
§ixxyD. Talk to me. 21:28, January 3, 2010 (UTC)
CR8ZY-Ar@B"Dancin' on Glass." 02:28, February 10, 2010 (UTC)
--G35cpe 04:41, March 5, 2010 (UTC)
Gunnery Sergeant Edward "Gunny" Buck July 8, 2020
"Die? Didn't you know? Spartans never die." -- Ultra Force 23:58, June 28, 2010 (UTC)
Hi --Turn out the Lights, on your way Out 03:45, July 18, 2010 (UTC)
--Mmm... Jackal Stew 11:22, September 26, 2010 (UTC)
Pimped out when it's still under contruction? O RLY? Tuckerscreator(stalk) 01:24, March 8, 2011 (UTC)
Commander RJ-216 (Shortkid808) 03:04, April 13, 2011 (UTC)
Pyro1099 Computer Nerd, Music Lover, Addict Gamer. 18:55, June 8, 2011 (UTC)
LEGO Allied Forces 22:30, June 19, 2011 (UTC)
Armourer715 More Guns! 09:57, June 27, 2011 (UTC)
Zeta1127 of the 89th Legion (talk) 16:24, June 27, 2011 (UTC)
JUN 266 10:28, August 9 2011
I Wuz Here —This unsigned comment is made by BornOnBoard (talk • contribs) . Please sign your posts with ~~~~!
And hello, I thought I already posted something here, but I didn't :-O User:Wilc0/Wilc0 Sig
Open fire!! -- Warrant Officer Grade III Delta Spartan-0093 ("Comm Channel-093" ) 19:11, August 10, 2011 (UTC)
HI, Congrats:) D4RKST0RM99 02:16, September 23, 2011 (UTC)
Psychstix - - "For The Wiki, and Only For The Wiki!" 15:16, December 3, 2011 (UTC)
Hello? Do you read me? Do I read you? Karl-591 (Talk) (Contribs)
Blogs? BLOGS?!?!? What is the purpose of these 'Blogs' you speak of?Leeroy, can I have Chicken?/Don't try and talk to me, I have a loaded shotgun! 20:23, January 13, 2012 (UTC)
Vidmas7er (Talk) (Contribs) (Edits) 22:44, January 18, 2012 (UTC)
Greetings comrade. Berry Punch (Contribs) 03:28, February 21, 2012 (UTC)
Blue The Timber Wolf 02:33, March 12, 2012 (UTC)
Yo!-

Skullhead4 (talk) (contributions) (edits) 03:56, March 17, 2012 (UTC)
Hey Leo! :) Fluttershy (Talk) (Contribs) (Edits)
Hey there border collie! Derpy Hooves (Talk) (Contribs) 18:26, March 17, 2012 (EST)
Guvner (Talk) (Contribs) (Edits) 05:21, April 2, 2012 (UTC)
Wait, why did I never sign this? Grif was here (talk) 11:41, June 17, 2012 (UTC)
Hiya! TheUltimateH4M Talk 06:40, June 30, 2012 (UTC)
Well hi!
Well, hello there!  343 TheGuiltyProphet | TALK - EDITS  |  19:46, December 17, 2012 (UTC)
Hey Leo! :)--Spartacus0898 (Talk) 22:38, January 8, 2013 (UTC)
Hey mate great to see someone from New Zealand close to me in Aus :) good on ya mate --ColgateFalcon (talk) 04:27, January 22, 2013 (UTC)
My Sig
UNSC Las Vegas Orders/Parking tickets/The letters from the Admiral, regarding regarding the Admiral's Daughter Maintenance Records/Insurance details
[Sometimes, it's all about the glory.] [Put your boot up enough alien backside and the corps will pin rows of medals on your chest.][Bad ass, unlocked.]
Rainbow Dash (Talk) (Contribs) 03:45, July 31, 2011 (UTC)
Leo Fox (My bark is probably bigger than my bite) (Contribs) 00:10, November 17, 2011 (UTC)
Other Wikis I am on