ME GUSTA! Yes, I speak Spanish, and I also love the Me Gusta Meme, as evidenced in my avatar. The first Halo game I played was Reach, followed by ODST, then 3. The next game I plan to play is CEA. I plan to go through the whole campaign in the original graphics after completeing it normally. I have seen all the Red vs Blue episodes and PSAs. Currently, my favorite episode is Episode 39 of the Blood Gulch Chronicles, "Best Laid Plans", and my fav PSA is "What I Did On My Summer Vacation". I'm currently in a clan called the No Shirts League (NSL), and my gamertag is SenorPhilberto1.
thumb|300px|right|SHUT UP, WOMAN, GET ON MAH HORSE!

Screenshots
Edit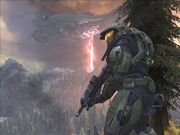 Community content is available under
CC-BY-SA
unless otherwise noted.