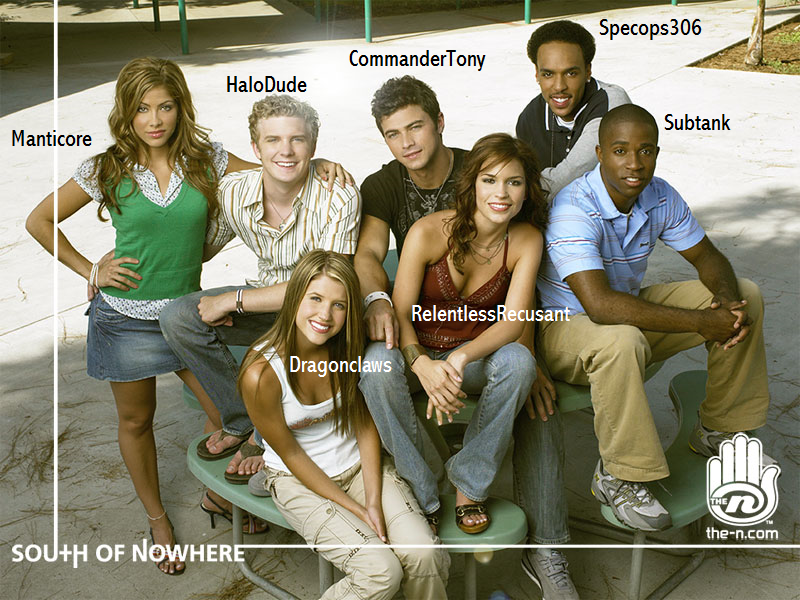 In the spirit of the previous parodies, I present to you the South of Nowhere parody image. Why South of Nowhere? Mainly because it's a weird juxtaposition to compare users of a Halo community to characters in a lesbian drama aimed at teenage girls. It's also one of my favorite shows, and I know the characters really well. But mostly, 'cause it's weird. ;)
With no further ado, here they are:
You may be wondering why I've only named admins in this parody. You may be thinking that this is part of some kind of conspiracy. No conspiracy. Really. It's just that these are the Halopedians I interact with the most. Uh-huh. No conspiracy here. Move along.
It also might be questioned why I've listed some guys as girls and a girl as a guy. An obvious thought is that I'm playing with gender 'cause apparently I'm androgynous in appearance or doing some gay thing 'cause the show's gay, but that's not really what I'm doing. I'm matching up Halopedians with the characters based on their respective personality similarities, which I feel is the really point of the thing. Oftentimes I see Subtank or another female user squeezed into some female role she doesn't really fit other than being the same gender. I mean, no one here's a cylon or a Jedi – you gonna let gender get in the way of matching character traits?
Anyway, there you have it: Halopedians in South of Nowhere. Weird? Yes, but at least I put some thought into it. It's not like so-and-so's a tree 'cause that's something in the picture or whatnot… which gets me thinking…
Halopedia as South of Nowhere logo because it is the reason we're all here.
Wikia as The N logo, because it's the reason Halopedia is here.
Community content is available under
CC-BY-SA
unless otherwise noted.